Come on down to Deming, New Mexico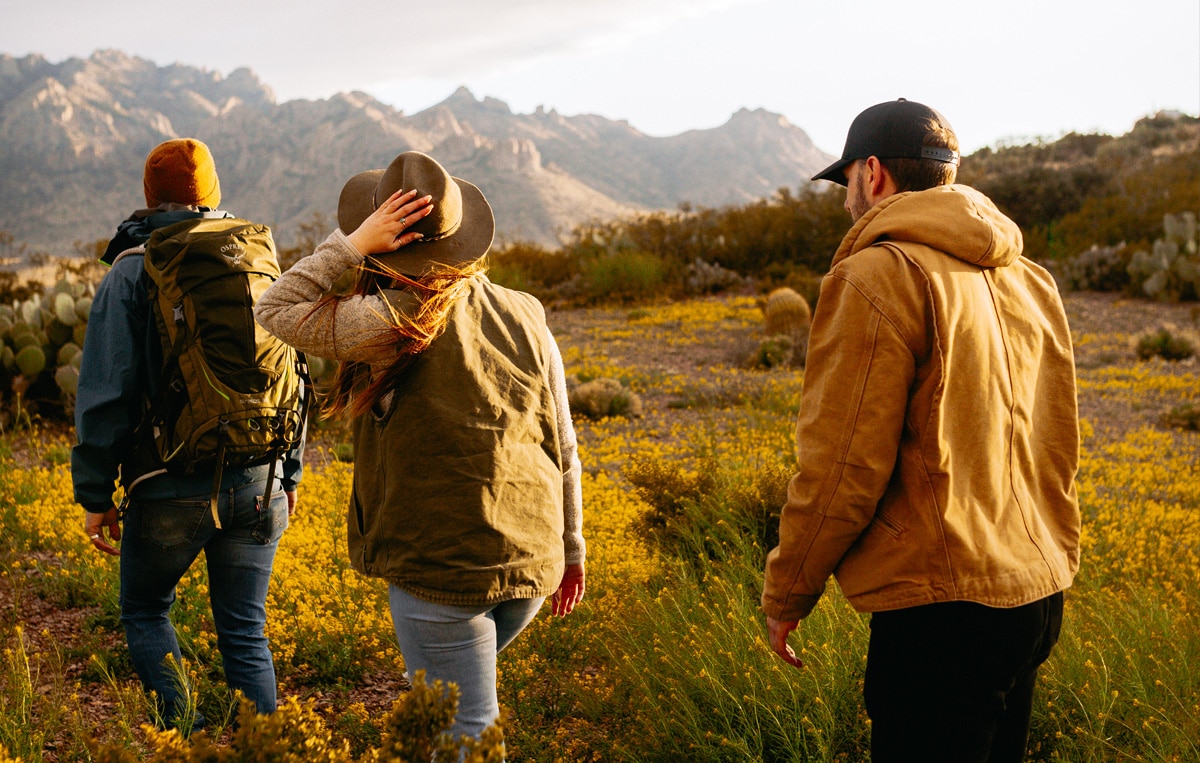 Greetings Travelers
From my window, I'm basking in the blazing colors of fall, the red Gambel oak and yellow aspens. I've been savoring these sweet warm days lit by golden sunshine and crisp, dark nights sparkling with stars. But I know the leaves will soon fall and the seasons will change.
I'm ready for a transformation, too. This year's been tough. Between the pandemic and the politics, our spirits have worn thin.
I've been contemplating an easy way to get away this winter, to uplift and restore my heart and spirit … and I bet you have, too.
Wouldn't it be liberating to take a break from the news and the noise of 2020? To step away from the everyday and into an exhilarating new experience?
It's time to embrace the season and reward ourselves. Escape the winter cold and head to sunny southern New Mexico, where the average winter daytime high reaches 64°. Jump into the RV and take an epic road trip that leads to Deming. Located halfway between Dallas and California, this friendly frontier town in the Old West makes a perfect home base for the season.
With four spectacular state and national parks, Deming is the place to really get out in nature. This go- to winter getaway is perfect for snowbirds and everyone desiring a great adventure. Let us know if you go!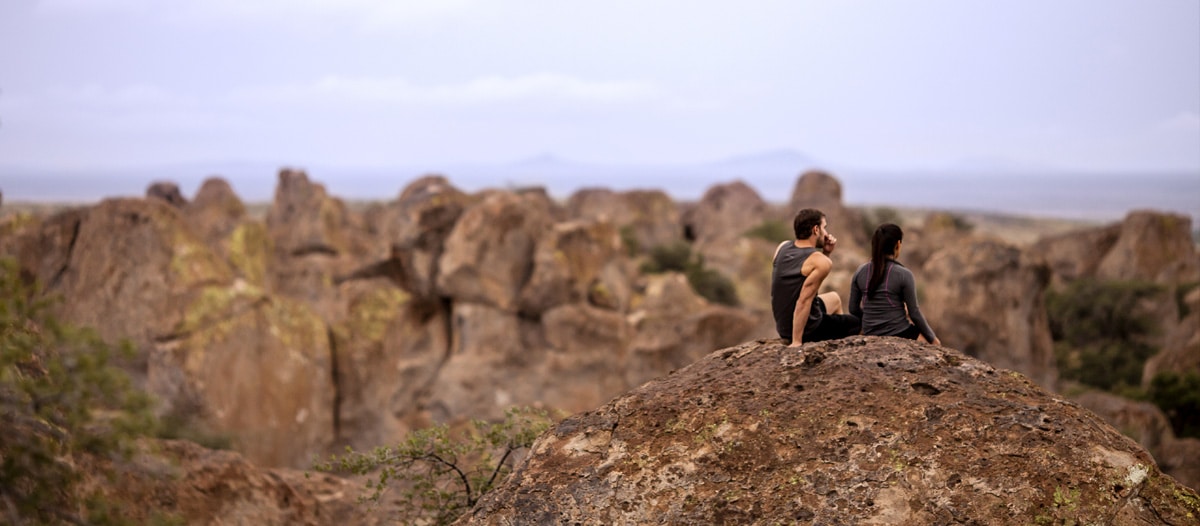 A Paradise of Outdoor Parks
The otherworldly beauty of City of Rocks State Park makes this one of New Mexico's most visited sites, with striking rock sculptures formed by a volcanic eruption some 30 millions years ago. Rock Hound State Park & Spring Canyon Recreation Center, is the place to prospect for geodes, opals and other treasures to take home. History buffs trek to Pancho Villa State Park, devoted to the famous 1916 raid of General Francisco "Pancho" Villa's soldiers, who attacked the border town of Columbus and Camp Furlong. Hike, mountain bike and picnic to your heart's content, amid gorgeous scenery, in each of these state parks.
Step back into a fascinating, forgotten past at Gila Cliff Dwellings National Monument, where the Mogollon people built breath-taking cliff dwellings, starting in the late 13th century. You can also hike, horseback ride and camp in the glorious Gila Wilderness area.

RV Luxury
With 15 RV parks to choose from, Deming is an ideal destination for snowbirds and everyone else driving a recreational vehicle, which has become a hot ticket in 2020. Relax and enjoy loads of sunshine, stunning mountain views, and every amenity you might need.
For a sensational spring getaway, head to Deming in sunny southwestern New Mexico. You'll be enchanted by this historic Old West city with a family-friendly vibe. Every March, visitors travel from around the world for a mineral and gem show that rocks like no other. And spring is an ideal time to visit Deming's world-class museum, known as the "Smithsonian of the Southwest" for its compelling collections showcasing the region's rich history. With spectacular state parks, a great golf course, an award-winning winery and plenty of shopping, restaurants, lodging and RV parks,  Deming is the place to be this spring.
A Rockhound's Delight
Mark your calendars now for Deming's biggest annual event, the 55th Annual Rockhound Roundup, held March 12-15 at the Southwestern New Mexico State Fairgrounds. Hosted by the Deming Gem & Mineral Society, the roundup brings together more than 110 rock dealers from across the globe with visitors from far and wide for five days of rockin' fun. The roundup's big event, the bustling buyer's market, features fossil and geode collectors, jewelry and bead artists,  quartz traders and many other rockhounds.  If you haven't yet discovered the thrill of breaking open a geode and marveling at the glittering crystals inside, this is the place to do it. Admire a piece of the prehistoric past when you hold a fossil in your hands. The schedule also includes gold-digging demos, guided field trips, live and silent auctions and plenty of fun for the kids, from fossil digging to a spinning wheel of prizes. The Rockhound Roundup offers a wonderful way to experience Deming, a celebrated "Rock-Hunter's Paradise."
RV Park Paradise
Many people travel from all parts of the country to the Rockhound Roundup in their RVs. That's because Deming is an RV park paradise, with some 15 scenic sites offering breathtaking mountain views, endlessly starry skies and birdwatching opportunities as well as swimming pools and numerous other amenities. Snowbirds flock to Deming for the casual RV lifestyle, while others enjoy breathtakingly beautiful campgrounds in nearby state parks, with great hiking trails, wildlife viewing rock hunting and other outdoor adventures.
The Smithsonian of the Southwest
Travel back through the centuries with a visit to the remarkable Deming Luna Mimbres Museum, filled with room after room of marvelous treasures. The building itself  has a fascinating history, having been constructed as a National Guard Armory just two months after Pancho Villa's famous raid of March 9, 1916 in nearby Columbus.  Inside, you could spend days touring the many exhibits, starting with the magnificent Mimbres Indian pottery, which reveals an ancient civilization that thrived in this Mimbres Valley region a thousand years ago. In period-furnished rooms, experience what daily life was like in Deming during the  19th and 20th centuries. In the Western Area, explore cowboy life, then take a look at Deming's railroad era with a reproduction of the city's railroad station and Harvey House restaurant.  You'll also see impressive collections of antique cars, quilts, toys and so many other items. The volunteer-driven museum also hosts special events and tours, so be sure to check the website to see what's happening during your visit.
To learn more about Deming's history, take the self-guided Historic Landmark Walking Tour, which highlights 16 architectural treasures on the State Historic Register and the National Register of Historic Places. The tour begins at the museum then includes the famous 19th-century Custom House as well as a classic 19th-century brick hotel, a turn-of-the-century pool hall and restaurant, and a Masonic Hall that dates to 1917.
There's so much to love about springtime in Deming. From the beauty of our majestic mountains and parks to our vibrant arts scene and friendly, small-town ambience, there's simply no other place like it. We'll see you soon.
Adventure awaits in Deming! This vibrant city in the historic Old West is home to spectacular state parks, a world-class museum, an award-winning winery and a rich, riveting history. Located in sunny southwestern New Mexico, Deming has a mild climate that makes it the perfect getaway for snowbirds. A year-round calendar of exciting events draws visitors from far and wide. Take an enchanting getaway to Deming this season, and fall in love with this friendly, fun-filled community.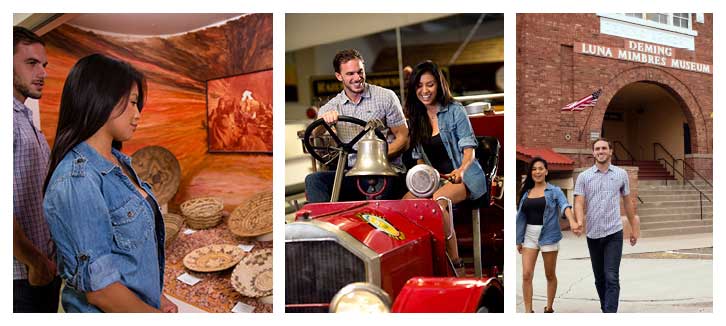 Discover the area's compelling history at the Deming Luna Mimbres Museum. The collection of world-renowned Mimbres Indians pottery reveals the art and culture of an ancient civilization that flourished in this Mimbres Valley region a thousand years ago. Then explore period-furnished rooms and experience the everyday life of Deming's residents of the 19th and 20th century. Tour collections of antique cars, quilts, toys and so much more. Visit the Western Area for a look at cowboy life, followed by the reproduction of Deming's railroad station and Harvey House restaurant, which documents the city's railroad era.
Now you're ready for a first-hand experience of Deming's rich history, on the self-guided Historic Landmark Walking Tour. View 16 of Deming's architectural jewels, including the famous Custom House, built circa 1889, a turn-of-the-century pool hall and restaurant, and a Masonic Hall built in 1917.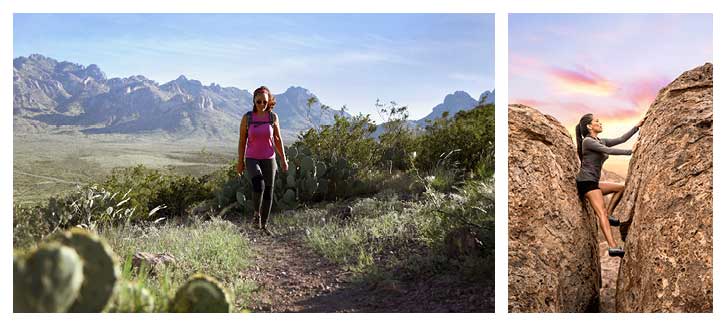 With three stunning state parks in its backyard, Deming is a big attraction for hikers, mountain bikers, rock climbers and other outdoor enthusiasts. City of Rocks State Park, one of New Mexico's most visited sites, took shape some 30 million years ago in the wake of a volcano eruption. View the mesmerizing beauty of volcanic rock formations sculpted by wind and rain into temples, towers and other dramatic shapes. Abundant wildlife includes antelope, javelinas and more than 35 bird species.
At Rockhound State Park, you can prospect for natural treasure, including opals, jasper, geodes, onyx and quartz crystal and take home your finds. That's because this is the first park in the country to allow visitors to leave with the natural objects they discover. You can also hike, mountain bike and enjoy a picnic in this park's stunning scenery.
History buffs are captivated by Pancho Villa State Park, which commemorates the 1916 raid of General Francisco "Pancho" Villa's soldiers, who attacked the small border town of Columbus and a military camp. This first armed invasion of the continental U.S. was also the last, and it sparked General "Black Jack" Pershing's famous pursuit of  Pancho Villa into Mexico. Located a half-hour's drive from Deming, on the Mexico border, the park provides a remarkable opportunity to explore this compelling history through historic buildings and an exhibition hall.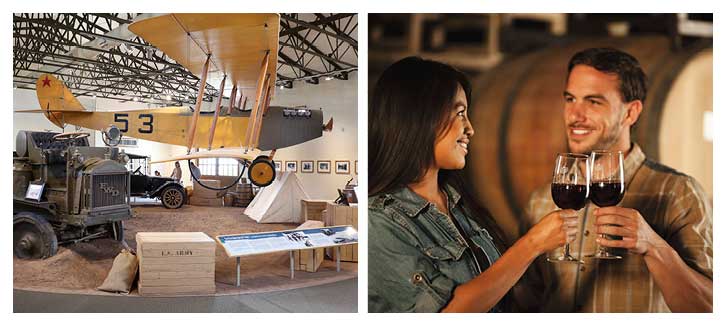 Deming also is home to the renowned D.H. Lescombes Winery & Tasting Room, which produces some 70 different wines. This year, the winery and tasting room hosts its 25th Annual Wine Festival September 28-29, a two-day celebration with live music and dancing, art, craft and food vendors, fireworks and, naturally, wine and craft beer tasting. The event takes place on a lovely lawn and includes grape stomping, a cork-pulling contest, VIP winery tours and more. Can't make it for the festival? Stop by any Friday evening, when the winery/tasting room offers live music and wine specials on the lawn.
Once you have experienced the magic of Deming it will keep you coming back for more.