On the Trail of Treasures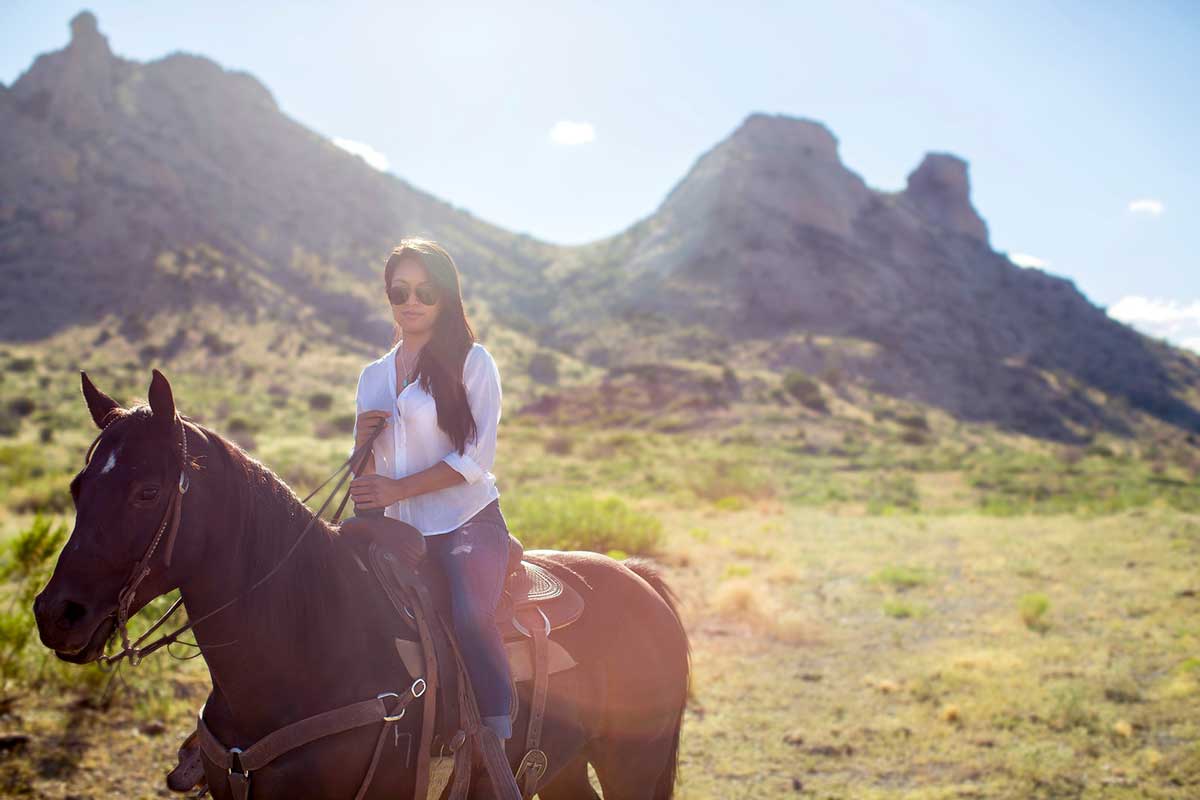 Immerse yourself in Deming's rich history and remarkable arts as you visit the city's treasures. You'll see prized pottery from an ancient civilization and experience Deming's Old West and railroad eras. The city is steeped in colorful stories from yesteryear, and they all come to life through a world-class museum and an architectural walking tour.
ANCIENT ARTISTS
Long before Deming was founded in 1881, the Mimbres civilization lived in villages along the Mimbres River. Excellent hunters and farmers whose crops included corn, beans and squash, the Mimbres Indians also produced stunning black-on-white pottery, painted with birds, animals and other figures. Today, this pottery is revered worldwide for its expressive artistry and beautiful design. The Mimbres people lived here from about 950 to 1200 A.D., vanishing after the arrival of Spanish settlers.
GUNSLINGERS GALORE
In the days of America's Old West, Deming was a notorious Wild West town. Horse thieves and bandits raided nearby ranches, gunslingers walked the streets, and outlaws captured elsewhere were banished to Deming, with its saloons, brothels and gambling. This Old West town was also home to ranchers and cowboys, who wore their hats with their own unique tilt or crease, and often gathered around the chuckwagon for vittles during cattle roundups.
TRACKS IN TIME
Deming took a new track with the arrival of the railroad in 1881. On March 8, the Atchison, Topeka & Santa Fe met the Southern Pacific, making Deming the site of America's second transcontinental railroad. A ceremonial silver spike driven into the railroad commemorated this momentous event, and the town officially was named after Mary Deming Crocker, wife of railroad baron Charles Crocker. Over the years, when Presidents Hayes, Harrison, McKinley, Roosevelt and Truman visited, this prominent railway town gave them each a grand welcome at the Deming train depot. One of the famous Harvey Houses was built here, providing meals for train passengers, a dormitory for the Harvey Girls, and a bustling social center for Deming. (You can see a remnant of this Harvey House next to the Amtrak train depot.)
POTTERY
The beautiful Mimbres Indian pottery produced a millennium ago inspired Mary Coulter to create a line of highend dinnerware in the 1930s, when she was the interior designer and architect for the Atchison, Topeka & Santa Fe Railway and the Fred Harvey Company. Her whimsical Mimbreño china, decorated with motifs from the ancient Mimbres vessels, became highly collectible after the Santa Fe Railway's Super Chief dining cars started using them, and soon were hard to find. Recent reproductions, however, have made them affordable and available once again.
MUSEUMS
Don't leave the Deming Luna Mimbres Museum before visiting the gift shop. It's almost as packed as the museum itself, filled with arts and crafts, handmade jewelry, books about the Southwest, even reproductions of the Fred Harvey railroad dinnerware inspired by Mimbres pottery. You'll find great gifts for family and friends and of course, for yourself.
THE SMITHSONIAN OF THE SOUTHWEST
Step inside the Deming Luna Mimbres Museum, and the area's amazing past vividly comes to life, in 40 exhibits across three buildings. The impressive collection of prestigious Mimbres Indians pottery tells a captivating story of the Mimbres people, whose name means "little willow" in Spanish. You'll marvel at the bowls, jars and other vessels painted with jackrabbits, tortoises, feathered serpents and other distinctive designs. There's much more to explore in period-furnished rooms and exhibit areas all devoted to the everyday lives of the people of Deming and the Mimbres Valley. Experience cowboy life and the railroad era and tour cool collections of antique cars, gems, quilts, toys and so many other items.
ARCHITECTURAL TREASURE
Stroll through Deming's history on the self-guided Historic Landmark Walking Tour, which showcases buildings on the National Register of Historic Places and on the State Historic Register. Begin at the red-brick Deming Luna Mimbres Museum, built in 1916 as a National Guard Armory. Then cross the street to see the famous Custom House, built circa 1889 with portico Greek columns. The tour includes a classic 19th-century brick hotel, a turn-of-the-century pool hall and Morgan Hall, the city's original City Hall and fire station. At the Deming Arts Center, an original metal vault now serves as an office. Your last stop, the stately Luna County Courthouse, dates to 1910 and was built in the style of 19th-century Midwest public buildings.
LODGING
It's easy to find lodging in Deming, whether you're looking for hotels, motels or RV parks. Friendly and affordable options abound, and they're all close to downtown, making it easy for you to navigate anywhere in the city while you're here. DINING In the mood for authentic New Mexican food made with the famous chile from Deming and Luna County? You've come to the right place, as it's a staple on many restaurant menus. You'll find plenty of popular New Mexican restaurants, and you'll also find lots of other local choices.
PLAN YOUR VISIT
For the complete list of lodging, RV parks, campgrounds, restaurants and more, visit: DemingNMTrue.com