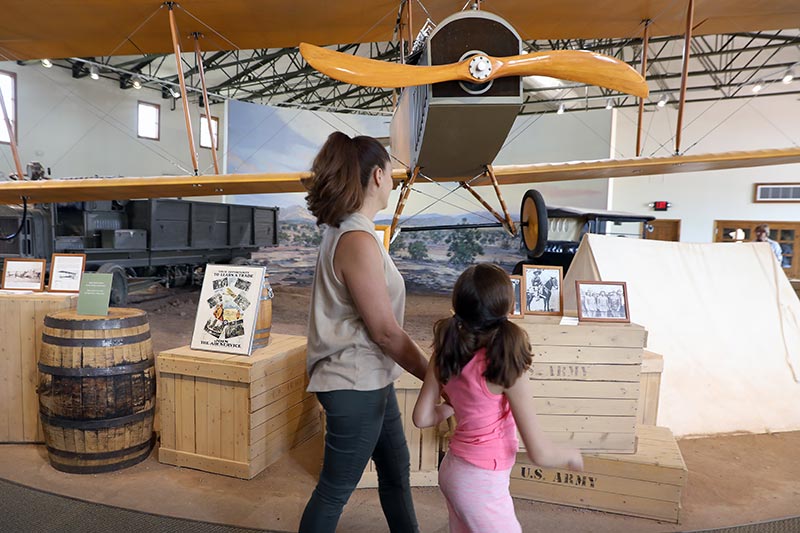 Pancho Villa State Park
At the border of Mexico, a half-hour's drive from Deming, lies Pancho Villa State Park. With its historic buildings and exhibition hall, the park commemorates the famous raid of General Francisco "Pancho" Villa's soldiers, who attacked the small border town of Columbus and Camp Furlong, a military camp, on March 9, 1916. This raid marked the first armed invasion of the continental U.S. and the last one, too. In response, General "Black Jack" Pershing went after Pancho Villa, leading 10,000 American soldiers on an 11-month, 5,000-mile pursuit into Mexico, but failed to capture him.
The park's exhibits and buildings explore this fascinating history, as Pershing's pursuit marked the first U.S. military expedition to employ airplanes and other mechanized transportation.
That experience proved to be invaluable when Pershing served as commander of the Allied forces in World War I. You'll see a Curtiss JN-3 "Jenny" aircraft and a 1916 Dodge touring car, the kind that Pershing used as his field office.
Stop by the Visitor Center, which was a U.S. Customs House built in 1902. The park also offers hiking, picnicking, camping, wildlife viewing, and a native plant garden.
Pancho Villa was driving his black 1919 Dodge touring car when he was assassinated in Chihuahua on July 20, 1923, at the order of Mexico President Alvaro Obregon. More than a century after Villa's raid on Columbus, Pancho Village State Park is taken over every October by Pancho's Car Show, featuring vintage and late model show cars and motorcycles. You'll see some of the best show vehicles in the Southwest and, who knows, you may even see a black 1919 Dodge touring car.

400 NM-9, Columbus, NM 88029